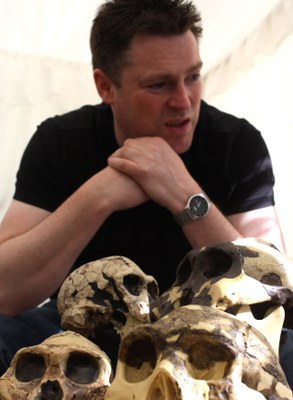 Episode 70: Interview with Mark Maslin, Professor of Earth Systems Science, UCL, author of The Human Planet
The scale of human impact on our planet is not easy to engage with – even scientists often have a narrow focus on the specific problems they're trying to solve. In this episode, we talk with Professor Mark Maslin about humanity's impact on the planet and the new geological epoch into which we are entering as a result – the Anthropocene.
The Anthropocene is the scientific definition of the geological time frame in which human impact has become so large that we're now in a new geological epoch. It only identifies the "when" without ascribing causation, but will allow us to move forward to discussing specific causes.
In this interview, Mark first of all presents the scale of our environmental impact with powerful data. First there is the tremendous impact from the vast amount of concrete we need for buildings and more, in fact we've already made enough to cover the entire planet with a 2mm layer. In addition, we've already destroyed what should be normal ecology on land, with only 3% of land mammals being wildlife (the other 97% being humans and domesticated animals). Not to mention the deforestation – we've already harvested effectively half of the trees on the planet.
Mark talks about an inherent contradiction between the environmental problems we're facing and continued economic growth. We're currently on track to double the size of our economic system, but we desperately need to break our obsession with consumption, question the Western model and rethink the way we define economic systems to account for impacts to society.
Mark believes there is hope that we now have enough knowledge to do something about our predicament, but argues we need several big changes. One is effective leaders who can make real change by leveraging crises to implement balances and checks. We need to take advantage of win-win situations where there is a positive impact that will also happen beyond addressing global climate impacts. Mark suggests we should tackle reforestation, as people move to urban centers and we have available land. He argues we should adopt Universal Basic Income so that people have breathing room to truly innovate and become entrepreneurs and problem solvers. And last but not least, that we should empower the next generation who is already motivated and engaging with climate strikes.
Mark Maslin is leading scientist with particular expertise in past global and regional climatic change. He is published in over 165 papers in journals such as Science, Nature, and The Lancet and authored 8 popular books including most recently, The Human Planet. He is Professor of Earth Systems Science at University College London, a Royal Society Industrial Fellow, Executive Director of Rezatec Ltd and science advisor to the Global Cool Foundation.
The post Episode 70: Interview with Mark Maslin, Professor of Earth Systems Science, UCL, author of The Human Planet appeared first on The Sustainability Agenda.