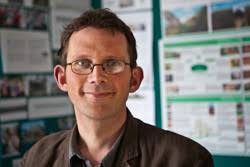 Episode 72: Interview with Rob Hopkins, founder of Transition movement
People feel defeated when they hear the grand cost of achieving carbon neutrality. But what if some of the solutions were to be found in revitalising the collective imagination, harnessing the dynamism of local communities and rethinking local economies to achieve a sustainable future? In this episode we speak with Rob Hopkins, the founder of the Transition movement, which seeks to do exactly that.
The Transition movement is all about dreaming the future we want to create and rebuilding the world at the level of individual communities. When you look at a local community through a Transition lens, you find numerous opportunities to bring the economy home, recreating it in a way that enables money to stay local and cycle locally, all the while creating community connection and entrepreneurship.
There are currently Transition groups in more than 50 countries worldwide and Rob shared some of the unique local projects. One example was Black Isle peninsula in Scotland was given funding to focus on transportation solutions and because they knew their situation best, they arrived at a solution of encouraging biking, ridesharing, and walking in ways were synergistic, so much so that they reduced their mileage by an amount equivalent to driving to the Moon and back two and a half times. The City of Liege in Belgium asked "what if in a generation's time the majority of the the food eaten in Liege were grown on the land closest to Liege. This resulted in 21 new cooperatives, 5 million euros of investment by local people, two new farms started, two vineyards, a brewery, and 3 shops in town. Lastly, in the thriving Transition town of Totnes, the Reconomy Center is an innovative incubator for new enterprises. They run an event every year where people step up to support each other with their new enterprises. Totnes also has some projects that are building over 100 homes, workshop spaces, a hotel, and a new space for public events, which will all be in community ownership forever and will generate funds going forward.
A common thread of successful Transition efforts is that you see solutions that have benefits beyond a direct reduction in carbon emissions – you also see public health strategy, biodiversity, economic strategy, people feeling invested in their community, and more.
Because of the way things work with subsidies, externalities unaccounted for in costs, existing infrastructures and organizations, we get stuck in our current way and often lack the imagination or dedication to do the necessary rethinking of systems and rebuilding of economies to create a better future. The Transition movement invites and inspires us to think outside the box about the future we wish to create. Rob shares his vision of reimagining the future into something positive, realistic, and hopeful through storytelling and creating 'memories of the future'. We need great leaders to help us overcome our imaginative poverty.
The post Episode 72: Interview with Rob Hopkins, founder of Transition movement appeared first on The Sustainability Agenda.