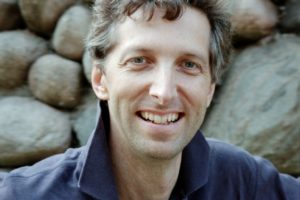 Episode 80: Interview with Brian Von Herzen on Marine Permaculture
With over half of CO2 recaptured from the atmosphere going into the world's oceans, they are by far the world's largest carbon sink. Regenerating the oceans both for the benefit of the climate and the millions of people who rely on them for their livelihoods is therefore essential. In this episode, we are joined by Drawdown Advisor Dr Brian Von Herzen for an exploration into one of Drawdown's most exciting "Coming Attractions"; marine permaculture.
As has become well established, the accumulation of pollution, ocean plastic and overfishing have left the planet's oceans in a dire state. In addition, with the oceans absorbing over 90% of warming we are not only seeing a massive die-off of the ocean's coral reefs but also a breakdown of ocean overturning circulations that is erasing the marine food chain and causing massive dead-zones. As Brian explains, warming is pushing vital cold nutrient rich water deeper underwater so that they are increasingly unable to come to the surface and sustain life. As a result, the oceans are fast becoming vast aquatic deserts. Marine permaculture is a way to address this by bringing these colder waters up to "irrigate" the surface. Effectively it seeks to regenerate the oceans by creating the planet's most productive ecosystem; the kelp forest.
Kelp forests are the basis and habitat for vibrant ocean ecosystems. With the potential to grow up to half a meter a day, kelp is also an excellent means of sequestering carbon as it grows. If sunk at sea at a depth of over one kilometre, this carbon is effectively taken out of the atmosphere for centuries giving kelp and other forms of seaweed enormous potential as an effective means to sequester capture. Coupled with the fact that seaweed is already a billion dollar industry, with an array of new applications emerging, such as a source for biofuel and animal feed (see "A Cow Walks onto a Beach"), marine permaculture could regenerate the oceans and provide sustainable long-term financial returns.
The potential is thus enormous and Brian takes us through the Climate Foundation's efforts, since it began exploring marine permaculture a decade ago. Following two successful trials in Hawaii and Indonesia the team are now gearing up to prove that marine permaculture is viable in the open ocean. Brian's vision is to create "marine permaculture arrays" – effectively floating structures of interconnecting tubing with a wave-powered pump to bring colder waters to the surface. Kelp can then attach to the beams thereby creating the conditions for what are effectively a floating ocean forests; the ultimate organic farm. The beams are suspended fifteen meters below the ocean surface keeping it safe from extreme weather events and shipping lanes. Brian ultimately envisions that these arrays can be scaled to the extent that they can even sustain the economy of small island states – or "big ocean states" as he calls them, whilst regenerating the oceans and providing vital ecosystem services. We discuss the momentum behind this vision and opportunities and challenges around funding and support. Brian finishes by reminding us of the scale of the challenge posed by global warming and stressing that technological innovations, like marine permaculture, provide the "teeth" to match the established political consensus of limiting global warming to 1.5ºC.
Brian Von Herzen is an ocean scientist, engineer and entrepreneur. Much of his career has been in Silicon Valley where he developed innovative technical solutions for companies like Pixar, Dolby and Microsoft. Brian is founder and Executive Director of the non-profit The Climate Foundation, an institute working to regenerate life in the world's oceans and reverse global warming within our lifetimes.
Follow this link to find out more about marine permaculture.
This is an edited version of the interview originally broadcast on The Drawdown Agenda podcast.
The post Episode 80: Interview with Brian Von Herzen on Marine Permaculture appeared first on The Sustainability Agenda.